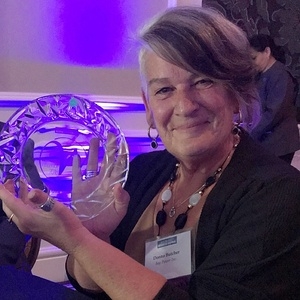 At Bay Power, our people are our most important investment. That's why we're proud to announce that our own Donna Butcher has been selected as one of the Silicon Valley Business Journal's 2018 Women of Influence! Each recipient is chosen for her impact on the Silicon Valley region both professionally and in the community. The award represents a commitment to improving the community by providing excellent service with integrity.
Donna is the founder and Chairman of the Board at Bay Power. Along with two other industry professionals, she started the company in 1992 as Bay Breakers, Inc. As a mother, Donna's primary goal was to provide for her family, but her business experience and commitment to excellence soon propelled her to success. Customers came to rely on her for answers and top quality service. After just a couple of years, she purchased the entire business and became one of the first women to own a certified Woman-Owned circuit breaker company. She never thought of herself as an icon for women in a male-dominated industry; instead, her goal was simply to take the next step that was right for her family and employees.
Over the next twenty years, Bay Power grew to 51 employees and expanded from a single location in San Jose to three additional locations in Ft. Worth, Roseville and Modesto. It is a powerhouse company in the San Jose area, and also serves customers across the United States and around the world. On the 25th anniversary in 2017, the company rebranded itself as Bay Power, bringing all four locations under one name. Bay Power also operates two UL 508A Panel Shops, which must meet rigorous industry standards for control panels.
"My goal in starting Bay Power was to serve a need in the marketplace and to create a company with a strong family atmosphere that my children would enjoy carrying on after me," said Donna. "I'm honored and humbled to be chosen for this award, and I'm proud of the hard work every team member puts into making Bay Power the company it is today. I'm also passionate about supporting my employees and their families, and I believe that's one of the keys to our success."
Donna has always operated her company like a family, and that culture extends to every employee at every location. The company sponsors sports teams for the children of employees, and works hard to make the workplace a friendly, supportive environment for every team member. In addition, Bay Power employees receive 100% coverage of their health benefits.
The 2018 Women of Influence awards dinner took place on May 31st, and 100 women were honored for their investment in the region. We can't think of anyone more deserving of this award, and we're thrilled to see Donna recognized for her many years of hard work and service.
Congratulations, Donna! Bay Power is proud of you!